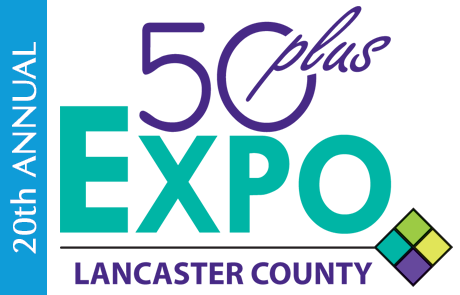 Lancaster County (Spring)
April 30, 2019 • 9 a.m. - 2 p.m.
Shady Maple Conference Center
Smorgasbord Bldg., 129 Toddy Drive,
East Earl
Entertainment
While at the 50plus EXPO, you'll want to make sure to check out the free entertainment offered throughout the day.
The lineup changes from year to year, but the performers are always top notch.
9:30 a.m.
Sally's Iron Mustangs and Sensational SilverSneakers
Presented by Sally Winchell, Wellness Director at Bright Side Opportunities Center
A dedicated and committed group of members from Bright Side Opportunities Center will demonstrate their typical workout. These "fitness freaks" have come to understand the importance of building muscle to be strong for daily living, to rev up metabolism, and to increase bone density.
10:15 a.m.
Definitions and Descriptions of Living Choices in a Retirement Community
Presented by Michelle Rassler, Vice President of Operations/Executive Director of Landis Homes
Retirement communities today have far more choices in living arrangements. Understanding these choices is important in making informed decisions for you or your loved ones. Come hear clear, concise definitions of all levels of living within a Continuing Care Retirement Community (CCRC).
---
11 a.m.
Reptiles and Amphibians of the World
Presented by Mark Layton, Wildlife Center Director at Refreshing Mountain
Mark will be presenting more than a dozen live reptiles and amphibians from around the world, including several Pennsylvania native species. Mark will clear up many misunderstandings about these animals; he will also teach about their environmental importance and colorful diversity.
---
11:45 a.m.
Nutrition for Your Body & Mind
Presented by Nadia Sharifi, Owner of TrimLine Weight Loss & Wellness
Join Nadia and the TrimLine Weight Loss & Wellness team in an interactive seminar to learn how to burn fat, gain control over emotional/stress eating, get healthy, and prevent or come off medications through the power of the mind and nutrition. It is much easier than you think!
---
12:30 p.m.
Basic Cake Decorating
Presented by Pam McNeal, Cake Decorating Supervisor at Shady Maple Farm Market
Pam will demonstrate simple techniques to create fun party cakes, including a colorful unicorn, complete with lollipop horn and candy-and-cookie mane, and farm animal faces using marshmallows for wool, fruit slices for horns, and more. Pam will also demonstrate how to decorate a sheet cake with piped flowers.
---
---
Advertising and sponsorship in On-Line Publishers' publications and [50plus EXPOs and Women's Expos] have made a positive impact on Homeland Center's awareness and attracted residents and clients to our 150-year-old senior healthcare facility. Their creative and editorial staff always respond positively and have helped immeasurably as we expanded our outreach services in hospice, home care, and home health. ~ Betty H., Homeland Center / Homeland at Home
Your shows are some of the best shows we do … and we do a lot. We look forward to your shows because they are so well run and produce quality leads. ~ Michael Newell, Homespire Windows & Doors
I thought the Expo was great. I believe we had more people this year than the last. We were busy the biggest part of the day … There was also time to network with the other vendors prior to the close of the Expo … I can't say enough good things about the Expo [and] the folks who are responsible from the beginning to the end. ~ Karen Bruner, Asbury Home Services
Exhibitor Booth Registration
×